Most active topic starters
Who is online?
In total there is
1
user online :: 0 Registered, 0 Hidden and 1 Guest
None
Most users ever online was
37
on Thu Aug 02, 2018 11:02 am

Begging for love
Abandoned by unknown parents, Billal, a young beggar in Méknes city sat leaning against a mosque in hope to gain plenty of money to feed himself. Day after day and this turned to be his sole job and livelihood.

Though his stomach was usually full, Billal still felt a hungry stomach somewhere inside his body. Such suspicious hunger often provoked him to begin recalling the story of his old but lasting destitution. Yet, all that he could recall was an enormous mixture of noise, ghosts, and foggy images about a father and a mother, quarrelling. "What's my sin to be thrown out here?" complained Billal.

That question which he asked himself dissolved Billal into tears. The later had digged two parallel rivers of misery along his round cheeks, over which some fresh scars spread to stand for al sorts of hardship and deprivation. He had no where to live in and no one to live with. "He is a branch of a broken tree thrown off into no where" said the old men sitting side by side with their backs against the wall of the mosque.

One Friday, Billal went out as usual to gain his lunch and dinner. A boy like him was born not to live, but to struggle for survival. He walked to the mosque with his dress full of spots and dirt. When he reached the place, he sat beside the door with his arms around his legs. Half an hour after the Imam finished the prayer, the boy took off his hat, hold it in his right hand and spread his arm straight to the worshipers coming out from the mosque. He couldn't utter a word. However, his little miserable face was enough to tear people's eyes and move their hearts and pockets. Though the boy came back with his hat full of coins, he still couldn't feel happy. A stomach somewhere in his body still and urgently calls for nurture- but not any nurture.

On the road to Sidi Bouzkri where he would spend the night, Billal's attention was caught by a pretty girl standing next to Zitoun High School. Suddenly, He felt as if a beam of light leaked into his heart and turned into a warm and wide smile on his face. He couldn't resist it, or perhaps he didn't wish so, for it is hope that makes one feel ok. "The hunger of heart is worse than the hunger of stomach" Billal realised. Since then, Billal continued to go there in so much he learnt the girl's timetable by heart.

One Saturday, Billal sat in front of the school door, waiting for the girl. At twelve o'clock the bell rang, and the students started leaving. Billal decided to talk to her no matter what it might cost him. "But what would I tell her?" thought Billal. Before he decided on what to say and how to say it, Billal, surprised by the girl's prettiness, moved back the girl in hope to talk to her. While on the road, the girl felt she was being chased. "Why're you chasing me?" asked the girl. "What's your name?" said Billal. "What for?" replied she. "I just want to know" said he. "I'm Hanan. Any more question?" said Hanan angrily. At this moment, Billal stuck speechlessly to his place with his heart fallen apart. When she saw tears fllowing down his cheeks, Hanan took out a white handkerchief and started to clear up the tears and scrabs in his egg-like face. Fortunately, this action eased Billal and saved him from sure death. "I'm sorry, my brother. I was just joking", "Come with me!" said hanan sympathetically.

Together on the road, Hanan hold Billal's dry hand and drove him home. As a way to ensure he wasn't a bit hurt of the way she treated him, Hanan added: "I didn't know you're so sensitive, brother. Please forget about it!"

When they arrived at home, Hanan rushed into her house and, cheerfully, brought a sack containing some fruits and vegetables, three loaves of bread, and some sugar. "Take!" said she. Surprisingly, Billal's eyes began tearing again. "What's up?!", "Why are you weeping?!" Hanan wondered. "I'm here wishing to feed my heart, not my stomach" said Billal hopelessly and scrammed in a wink.
Last edited by OULGOUT Abdelouahed on Sat Dec 18, 2010 3:46 pm; edited 1 time in total
A.OULGOUT




Number of posts

: 112


Birthday

: 1984-06-28


Age

: 34


Location

: Morocco


Job/hobbies

: public speaking, poetry, philosophy


Points :

171


Reputation :

6


Registration date :

2008-09-19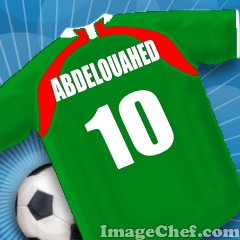 You're the leader of the forum !!! Nice story man, but unfortunately, a short one. You just provoked the hunger for reading, then cut our heads off !!!

Thanks for the contribution brother

Peace be upon you



Number of posts

: 27


Location

: Meknes


Points :

0


Reputation :

0


Registration date :

2008-09-29



Thank you alot brother! I promise I will try long stories soon. God willing.

A.OULGOUT




Number of posts

: 112


Birthday

: 1984-06-28


Age

: 34


Location

: Morocco


Job/hobbies

: public speaking, poetry, philosophy


Points :

171


Reputation :

6


Registration date :

2008-09-19



Salam my brother Abdelouahed

I am content to have read your short story, being rather surprised of you to be such a selective young narrator. And less astonished since you're not stranger to me; I've read nearly all your previous works ranging from articles to poetry...ect. Ever since, I deduced that a man like you who embraced and combined, successfully,these sensitive aspects of literature with an early flourished talent of writing and so on, will undoubtedly suprise us with this artwork appearing in its ultimate form under the title "begging for love". It is meaningful, concise and tragic...ect. And also your selection of the two caracters' names wasn't random. Yet"begging for love"is short as if it was intented only to whet our appetite and leave us in this ongoing state of hunger for getting more.
Yours faithully,
el hamdaoui said



Number of posts

: 6


Location

: meknes


Points :

0


Reputation :

0


Registration date :

2008-12-18



Thank you alot for your precious comment. I promise you too to try long stories soon.
A.OULGOUT




Number of posts

: 112


Birthday

: 1984-06-28


Age

: 34


Location

: Morocco


Job/hobbies

: public speaking, poetry, philosophy


Points :

171


Reputation :

6


Registration date :

2008-09-19



Dear Abdelouahed,
Actually it's an exciting story friend. Good language, good style and this is what is highly crucial. As for my friend's comment? I mean Said Karim ,to my mind when it comes to the story's length, the quality remains the core, that is to say the story's quality is not necessarily measured by whether it is too long or short however, it's the content (including language, structure, vocabulary, the fictional elements "the setting, the plot, the mood..." and last but not least the theme or the message, the writer intends to convey. ) which ditermines to what extent the writer is efficient or not. Ok i hope my friend would not take my comment amiss, by the way "i'd like to remember myself to said karim hope you are allright friend". Wish you good luck Mr Abdelouahed, at heart you did a great job i wish this will be a promising start. Good luck!
yours sincerely EL. Rachid.



Number of posts

: 5


Birthday

: 1987-07-20


Age

: 31


Location

: Morocco/ meknès


Job/hobbies

: Reading literary works, essayist, oral activities, & writing about issues related to current affairs


Points :

0


Reputation :

0


Registration date :

2008-10-30



First of all I want to congratulate you for this nice story. Iagree with my friends about the form of the story except what they have said concerning the lenght. For me it is better not to say every- thing and give the reader the chance to think and imagine so that everyone can find a start point for a new story out of this one. What i like more in this story is the lesson that you tried to make us learn: "The hunger of heart is worse than the hunger of stomach". I also want to conratulate you because, by this short story, you was able to shed light on many themes like homlessness, begging, adultry and its concequancies, love... thanks so much.
I will be happy to read another story with your nice simple language



Number of posts

: 2


Location

: marrakesh


Points :

2


Reputation :

0


Registration date :

2010-12-04



Peace be upon you!
Thank you so much dear Mustapha for your nice and considerable message. In fact this one-page story is very old as you can recognize in the publication date. Yet it was the ground on which I went on and managed to develop the story and make it longer. I did submit this one-page story to participe in 2009 ECDC writing competition and I won the short story first prize. Later, after I published the story online, I received some feedback from my friends there in which they regret about the shortness of my work. To meet their expectations I did later on develop my story and made it longer. I have now the long version of the story which I have submitted to a UK English specialist who made its proofreading, and it's now ready for publication in the market. I have not published the last version online for publication right reason. I am now waiting the suitable moment to submit it to a publication house; yet still I have the idea to develop the story into a novel or wait till I wrote more short stories and publish them in a stories collection book.
Thans again for your reply. Please keep in touch.

_________________
www.4truth.forumotion.net
A.OULGOUT




Number of posts

: 112


Birthday

: 1984-06-28


Age

: 34


Location

: Morocco


Job/hobbies

: public speaking, poetry, philosophy


Points :

171


Reputation :

6


Registration date :

2008-09-19





Similar topics
---
Permissions in this forum:
You
cannot
reply to topics in this forum