Most active topic starters
Who is online?
In total there is
1
user online :: 0 Registered, 0 Hidden and 1 Guest
None
Most users ever online was
37
on Thu Aug 02, 2018 11:02 am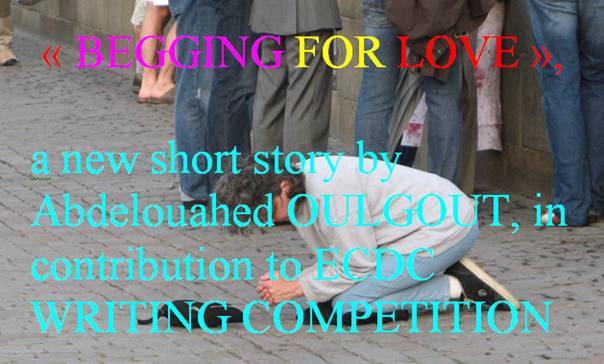 The story is about a young begger thrown out to the street as a result of a family breakdown. His life, therefore, began with physical depriviation, which pushed him to move from place to place asking people for food to satisfy his bodily needs. Through the time, the boy realised that something inside him still needs satisfaction; that was the emotional side of his well-being. Then, the boy's story ends begging for love and pity.

I hope you'll enjoy this story which tackles the reality of a huge number of street children in the world and, specificly, in Morocco.
Click here to read it:
http://4truth.forumotion.net/your-stories-f14/begging-for-love-t42.htm#97
A.OULGOUT




Number of posts

: 112


Birthday

: 1984-06-28


Age

: 34


Location

: Morocco


Job/hobbies

: public speaking, poetry, philosophy


Points :

171


Reputation :

6


Registration date :

2008-09-19



Dear brother,
I really congratulate you for the nice soul you've got. The story is really nice, but I have a question, and I hope you don't mind it, concerning the characters used; why have you choosen the name of Billal and Hanan exactly. I hope I may get an answer.



Number of posts

: 35


Location

: Morocco


Points :

14


Reputation :

2


Registration date :

2008-09-23



Thank you alot my brother for your comment.
I guess you know the reason behind optting for such characters."Billal" is without doubt a symbol of sufference and hardship. He was a black man of African origin, from Habashah (nowadays Ethiopia).
Bilal (May Allah have mercy upon him) spent his early life in Mecca as a slave owned by some orphans from the Banu `Abd Al-Dar, who were under the custody of Umaiyah bin Khalaf.
He was one of the pioneering converts to Islam. When he embraced Islam, there were very few Muslims, such as Khadijah bint Khuwailid, Abu Bakr Al-Siddiq, `Ali bin Abi Talib, `Ammar bin Yasir and his mother Sumaiyah, Suhaib Al-Rumi (The Rome, meaning the man from Europe as he was European), and Al-Miqdad bin Al-Aswad.
At the hands of the polytheists of the Quraish, Bilal suffered a great deal of persecution, maltreatment, oppression and violence, which none but a true Muslim can bear.
When Bilal made Adhan, he wept. `Umar and all other Companions who were present and who used to hear Bilal's voice during the lifetime of the Prophet, also wept.
In fact, the voice of Bilal moved their emotions and took their memories to the past, which they loved most. And for all these reasons I picked up Bilal to symbolise to all forms of human sufference andmisery.
Likewise the character"Hanan" is used to point at the Arab significance of the word; that is "kindness" or "pity" that Billal is deprived of. I therefore optted for such choices to embody human universal feelings of misery and sorrow.


Thank you!
A.OULGOUT




Number of posts

: 112


Birthday

: 1984-06-28


Age

: 34


Location

: Morocco


Job/hobbies

: public speaking, poetry, philosophy


Points :

171


Reputation :

6


Registration date :

2008-09-19





Similar topics
---
Permissions in this forum:
You
cannot
reply to topics in this forum